You certainly think it is almost impossible to prevent the development of cancer. We all have a loved one who, even though he led a healthy life, unfortunately developed this disease. According to data from the International Agency for Investigation against Cancer ( IARC ), it is possible to prevent 50% of cancer cases through a few simple strategies. As an example, as the European Code on Cancer states , if stomach cancer was previously one of the leading causes of death in the world, it is now lung cancer that is the more lethal, in both men and women. Undoubtedly, this reflects the adoption of unhealthy habits that increase the risk of suffering from this condition.
It is therefore essential to know simple tricks to prevent cancer on a daily basis. Small actions can always have great consequences.
1. Avoid tobacco use
If you want to reduce your risk of developing cancer, you must not use tobacco. We mean that you do not have to smoke, but you also have to avoid being a passive smoker.
As we said at the beginning of this article, lung cancer is one of the most frequent in the world population, and it is also the one that kills the largest number of people.
There is no point in vaporizing low-nicotine electronic cigarettes. Better avoid inhaling smoke and harmful substances.
2. Keep your weight shape
As the National Cancer Institute of the United States indicates, obesity causes a high risk of developing endometrial, pancreatic, thyroid or colorectal cancer.
Excess body fat promotes, for example, the increase in estrogen in women. This phenomenon can result in various mutations, causing the modification of healthy cells into cancer cells.
Do not hesitate to consult your doctor or a nutritionist to regain your weight shape. It is well worth it.
3. Do not be too sedentary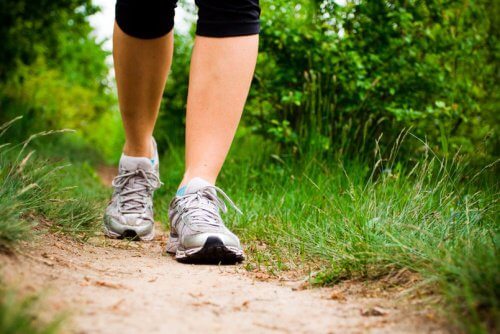 To fight physical inactivity, going out once a week is not enough.
Our bodies need daily movements and moderate activity to improve our blood circulation , the oxygenation of our body and the functioning of our vital organs.
It's not about exercising until we reach the limits of our strength. In the majority of cases, walking fast for even half an hour a day may be enough.
We recommend you to do it in a park or in a natural area to enjoy a purer air!
4. Adopt a healthy diet
It is necessary to be aware that a healthy diet is synonymous with well-being, health and longevity.
Consume fresh and, where possible, organic foods.
Keep in mind to drink between 6 and 8 glasses of water per day.
Increase your intake of fiber and vitamin C.
Read also:  Lemon and chia seed water: benefits for women
5. Avoid or use alcohol in moderation
Moderation and balance are the two keys to a healthy life. This advice applies to all areas of our lives, but especially to alcohol consumption.
If you want to be healthy, do not overdo a glass of wine a day. This healthy habit will allow you to take care of your cardiovascular health.